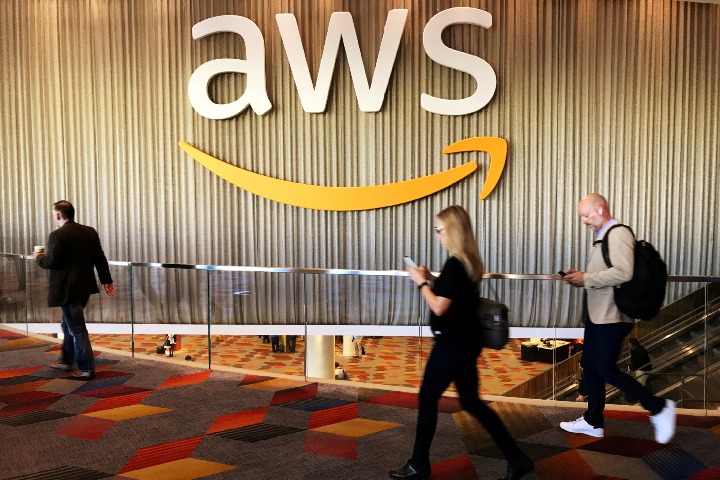 Amazon Web Services to further leverage cloud biz in Chinese market
Amazon Web Services, the cloud services platform of American tech giant Amazon, is bringing to the booming cloud computing market in China and stepping up efforts to offer more cloud services to help Chinese enterprises in their digital transformation.
China is and will continue to be one of the most strategically important markets for Amazon Web Services, said Elaine Chang, vice president and general manager of AWS China.
AWS has increased investment in the Chinese market to build an innovation engine to strengthen digital transformation in various industries and fuel the rapid development of China's digital economy, Chang said.
New features and services landed in AWS China regions grew 50% year-over-year in the first half, the company said.
"The digital wave has swept across all industries, both in China and around the world, and cloud computing is a key part of digital transformation. We help Chinese enterprises accelerate innovation, reinvent businesses and create smart industries by introducing world-leading technology and hands-on experience," Chang said.
With its global infrastructure, security expertise, and industry-leading compliance practices, AWS helps Chinese companies access the best technologies and services in overseas markets to improve their competitiveness and accelerate growth. globalization.
AWS came to China in 2013 and has since invested and grown its infrastructure and business. It launched the AWS China (Beijing) Region, operated by Beijing Sinnet Technology Co Ltd, in 2016, and the AWS China (Ningxia) Region, operated by Ningxia Western Cloud Data Technology Co Ltd, in 2017.
The company has increased its investment in China this year, including expanding its Ningxia region by adding 130% more compute capacity than in the first phase and adding a third Availability Zone in the Beijing region.
China's overall cloud computing market grew 56.6 percent to 209.1 billion yuan ($32.9 billion) last year, according to the Chinese Academy of Information Technology and communications. The market is expected to grow rapidly over the next three years and reach nearly 400 billion yuan by 2023.
In addition, AWS has strengthened its strategic collaboration with the audit firm Deloitte in China. The two companies plan to conduct close collaboration across four verticals, including automotive, healthcare and life sciences, retail and financial services.
"As one of the leaders in the global public cloud market, AWS's acceleration into cloud services in China will effectively provide more competitive options for enterprises in China and around the world to modernize applications and drive the digital transformation," said Charlie Dai, principal analyst. at Forrester, a business strategy and economics consulting firm.
At present, the scale of the cloud computing industry is rapidly increasing, and the competition in the domestic market is intensifying.
Spending on cloud infrastructure services in China rose 43% year-on-year in the third quarter to $7.2 billion, according to a report by Canalys, a global technology market analysis firm.
Alibaba Cloud remained the market leader with a 38.3% share of total cloud infrastructure spending in China, while Huawei Cloud was the second-largest provider, with a 17% market share. Tencent Cloud and Baidu AI Cloud ranked third and fourth respectively.
The report notes that AWS and Microsoft Azure have both announced plans to expand their presence in China through existing partnerships with local businesses.
Chen Jiachun, an official with the information and communications development department of the Ministry of Industry and Information Technology, said cloud computing services have expanded from e-commerce, government affairs and from finance to manufacturing, healthcare, agriculture and other areas.
"Cloud computing is driving more businesses to accelerate digital transformation. It has gradually become an important driving force for the transformation and upgrading of traditional industries and the empowerment of China's digital economy," Chen said.
Li Wei, deputy director of Cloud Computing and Big Data Research Institute under CAICT, said the COVID-19 pandemic has accelerated the development of cloud services and cloud computing applications, which have played a vital role in boosting development. of the digital economy.