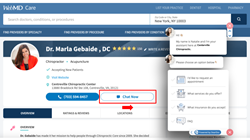 DearDoc Announces Partnership with WebMD Care and Vitals Directories to Bring AI Chat to Practitioner Lists
"With this new integration with WebMD Care and Vitals, we are further bridging the gap between online communication between patients and physicians."

NEW YORK (WEB PR)
06 September 2022
DearDoc, the cloud-based growth platform for practice owners, announces a partnership with WebMD Care and Vitals Directories to enable direct patient-practitioner communication via DearDoc's AI Chatbot technology.
Through this partnership and the integration of technology, physicians in the WebMD Care and Vitals directories can now add a "Chat Now" button that takes patients to DearDoc's AI Chat feature. The AI ​​chat invites patients to book appointments and get answers to frequently asked questions, such as services offered or insurance accepted. Additionally, the technology enables 24/7 accessible communication between physicians and patients with a single click.
"Patients often prefer the convenience of digital communication, and we're helping more practices deliver that modernized experience through technology," said Joe Brown, CEO of DearDoc. "With this new integration with WebMD Care and Vitals, we are further bridging the gap between online communication between patients and physicians."
In 2021 alone, DearDoc's AI chatbot helped drive over 300 new patients per practice by turning online chat requests into paying patients for medical practices. "We're on a mission to help physicians modernize their practice and their interactions with patients so they can help as many patients as possible," said Joe Brown.
For practitioners who want to unlock this feature in the WebMD Care and Vitals directories, book a free consultation call with DearDoc now: https://go.getdeardoc.com/webmd-pressrelease


About DearDoc

DearDoc is a practice growth platform that helps physicians grow their customer base and increase business efficiency through artificial intelligence. We won Built In NYC's "Best Places to Work in 2020" award and have been featured in Business Insider, among others. For more information on how to grow your practice, please visit https://www.getdeardoc.com/.
About WebMD Care

With an enhanced profile of WebMD Care, healthcare professionals can promote themselves to the largest audience of "ready to buy" consumers seeking healthcare on WebMD and Vitals directories. WebMD's powerful brand of consumer trust, combined with the massive audience of people seeking healthcare each month, creates an effective channel to attract new local patients, build a strong online reputation and make it easier to find health care practices on search engines.
Share the article on social networks or by e-mail: