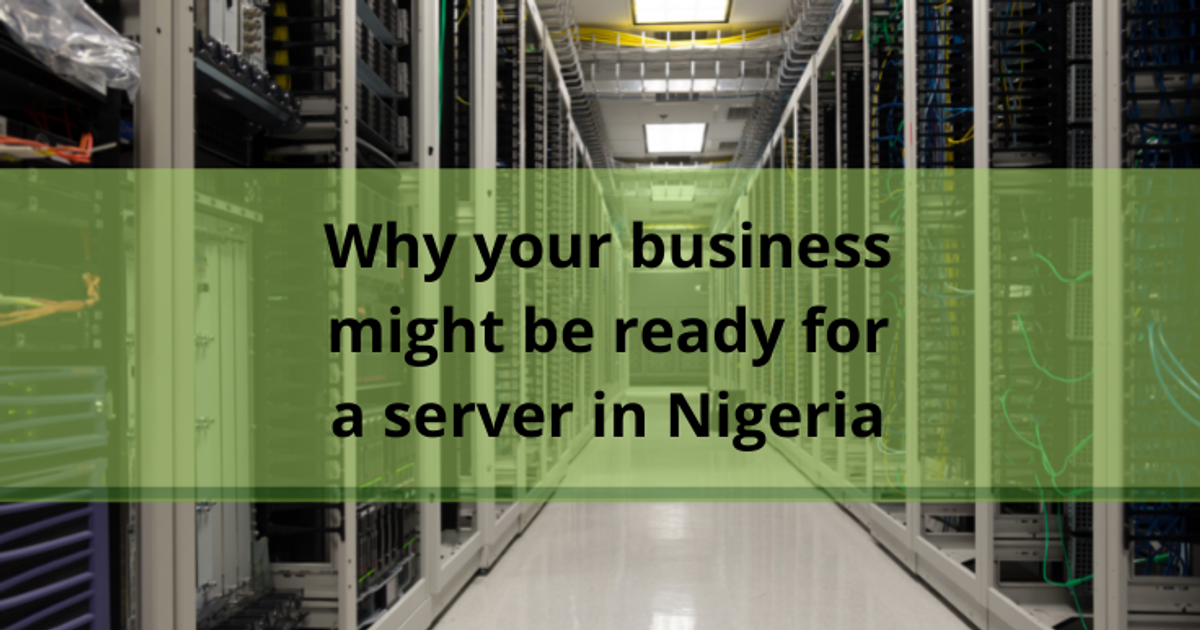 Why your business might be ready for a server in Nigeria
Challenges

Slow speed: A slow website can be the result of hosting your website on a shared web hosting plan. Shared hosting accounts are usually on a server with many other domains / accounts. In some cases, these servers are overcrowded, which slows down the experience of each domain hosted on these servers.
Website unavailable: Servers used for shared hosting that are not properly managed can slow down to a stop, causing all domains hosted on them to fall. It is not a rare event.
Solution

For a fast growing business, a slow or unresponsive website is not an option. Thus, it is necessary to invest in the best possible solutions to guarantee a fast website, available at all times and offering a good user experience to your customers, users or readers as appropriate.
There are several credible server hosting scenarios or combinations. One of the simplest is VPS hosting.
Virtual server hosting

Also known as VPS hosting, this is a solution where a dedicated server is used to create an environment that can host multiple virtual servers. These servers have most of the characteristics of a bare-metal dedicated server, including full root access.
Virtual servers provide a private hosting environment so that growing websites can scale on their own terms and not have to share resources with other users.
Web4Africa offers VPS hosting using technology that supports dedicated memory, dedicated storage and fast processors. Customers can choose from any of the popular operating systems for their web applications or websites.
Location matters

Not only does Web4Africa offer a wide range of VPS hosting plans, but also offers the option of a data center in Nigeria, Ghana, Kenya or South Africa. This allows businesses to host their website in the location that is closest to most of their users, audience, or market. Websites in a geographically close datacenter result in lower latency and therefore an overall better user experience.
Flexible environment

Unlike a shared hosting environment which limits what can be installed, a virtual server provides a blank canvas for just about any operating system or web application to install. Web4Africa offers limitless possibilities on what can be deployed for use by businesses.
Founded in 2002, Web4Africa is a leading web hosting company providing virtual server hosting, WordPress hosting, web hosting and related services to clients all over the world from data centers in Ghana, Kenya, Nigeria and South Africa.