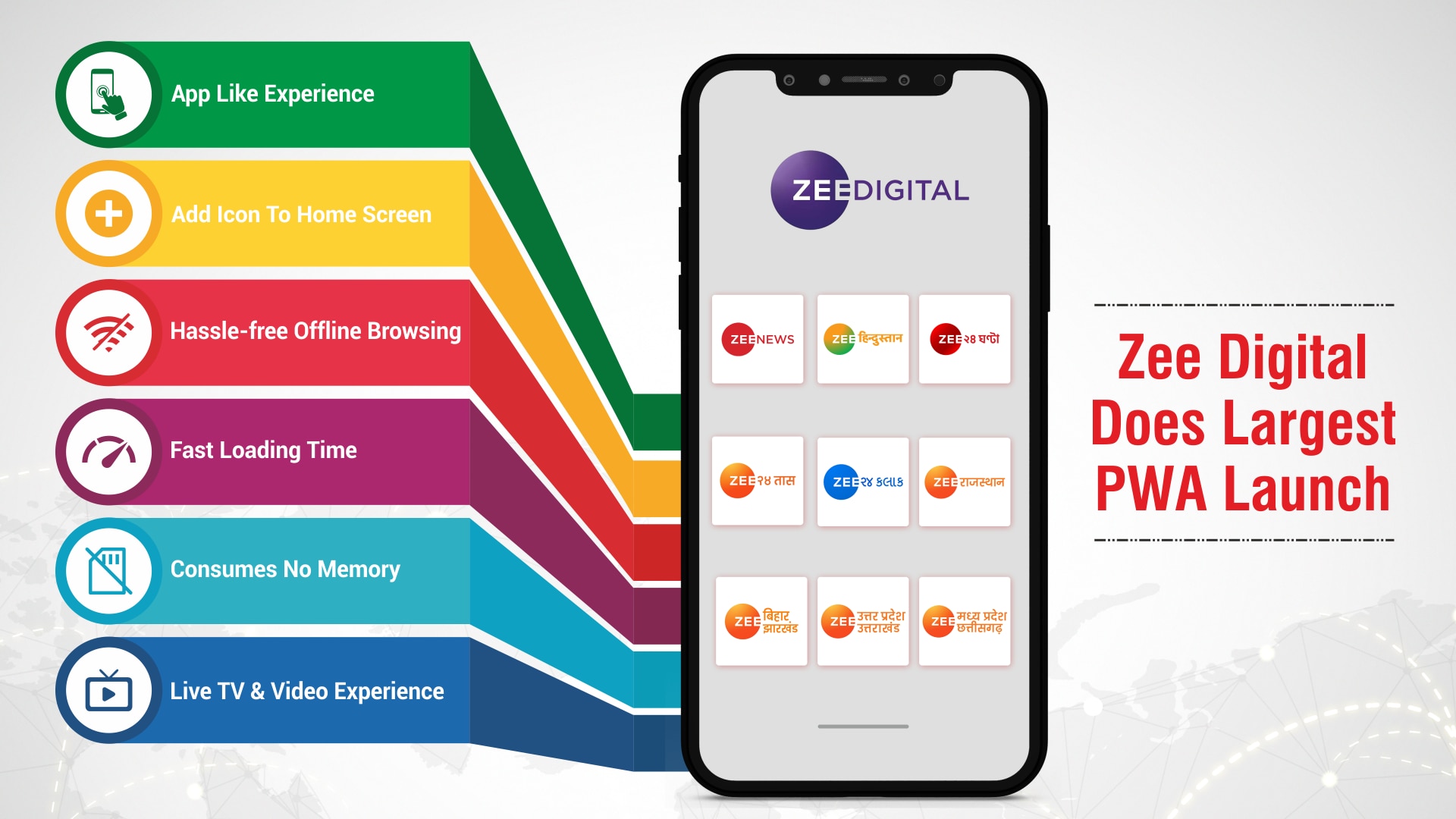 Zee Digital Launches Progressive Web Apps for 13 Brands Aiming for 200% Organic Traffic Growth
New Delhi: Reiterating its technological approach to content, ZEE Digital became the first media and entertainment company in the country to launch Progressive Web Applications (PWAs) for 13 of its national and regional news brands spanning 9 languages. This is the biggest PWA launch in the country and possibly across the world. With this launch, ZEE Digital joins the league of global tech giants like Facebook, Twitter, Alibaba, Uber, LinkedIn, and more, which offer PWA on mobile to their users for a superior user experience on the web.Also Read – Zee Digital Wins 5 Gold Awards at India Content Leadership Awards 2020
Now viewers of major news brands broadcast in India such as ZeeNews.com, Zee24Ghanta.com, ZeeHindustan.in, Zee24Kalak.in, 24Taas.com, ZeeRajastha.com, ZeeBiharJharkhand.com, ZeeUpUk.com and ZeeMpCg.com will benefit from the PWA mobile web experience. Having already grown these brands by over 65% in monthly active users over the past year, the company is targeting a further 200% organic traffic growth as a result of this launch.
The new mobile web app experience will help users add their favorite news brand icon to their home screen as well as the hassle-free offline browsing option to ensure pages load quickly and smoothly. in poor network areas and works well even on low storage mobile devices.
Rohit Chadda, CEO of ZEE Digital commented: "Being the largest media house in India, our aim is to reach as many people as possible. Progressive web apps or PWAs, as they are more commonly referred to, sit between native apps and a website, allowing users to enjoy the smooth and seamless experience of a native app while allowing them to take up no space. on the device. It's a great tech because it charges faster and doesn't consume the phone's memory. This becomes important for users in lower-tier cities who may not have high-end smartphones. The PWA should help them overcome issues like poor network connectivity and low device storage.
Given ZEE Digital's mobile-first strategy, it was natural for them to transform the mobile web experience of its major broadcast brands into a PWA and deliver a seamless news consumption experience to users.
"With this new technological advancement, our page speed performance scores are now the best in the industry. Being in the broadcast space, live TV and video are the most popular form of content consumed on these brands. Therefore, the new PWA version of the platforms brings video to the fore with a new "Watch" section allowing users to directly view their favorite news channel live on the web. Being a lighter form of app, the live TV experience is much better as the video player load times are much faster than before. This has been instrumental in improving our user experience on mobile, which represents nearly 95% of our users on the web, "added Chadda.
Over the past year, ZEE Digital has launched several mobile apps for various brands such as ZEE Hindustan, ZEE Business, India.com and ZEE 24 Ghanta to build a strong and loyal user base on mobile. Earlier this year, India.com launched its new mobile site to provide a more immersive experience for users, which has resulted in tremendous growth for the brand in terms of monthly active users.